​When USTs have been in use for a long time it's quite common that a good 'clean and scrub' is required to return them to prime operating condition. But how do you know?
Slow dispensing flow rates from clogged dispenser filters are most commonly the telltale sign.
In such a case, we will typically recommend a combination of our FuelPure™ Fuel Filtration Service along with our TankClean™ Remote Video UST Cleaning Service.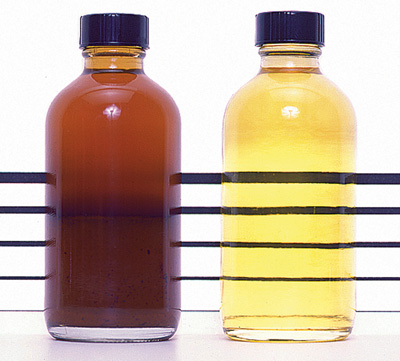 FuelPure Fuel Filtration Service
Contaminates can enter a fuel system through fill pipes, spill bucket drains, during construction or maintenance work and during product delivery. These contaminates can also originate inside the UST through internal corrosion or growing microorganisms.
Operators will experience a variety of symptoms when contaminates are present in fuel, including frequent maintenance problems, damage to fueling system components, failing vapor recovery tests and, ultimately, damage to customer vehicles.
With our FuelPure fuel filtration service, we remove the fuel from the tank and filter the impurities and contaminants.
TankClean Remote Video UST Cleaning Service
Before clean fuel is returned to the tank, a visual inspection and thorough cleaning is performed using our TankClean system, aided by our TankCam internal remote camera.
The combination of our proprietary video-guided TankClean Remote Video UST Cleaning Service along with our FuelPure purification process results in the best tank cleaning process available anywhere.
To learn more, or to discuss specific needs for your site, call us today at (833) 543-0101.